These 2 games I developed during 2001 to 2002 when I was high school student. I was a fan of Flash script at that time. I learned coding during 2000 by visual basic and later C programming language. I liked flash script because it was nice for developing visual application.
Captain Sun 2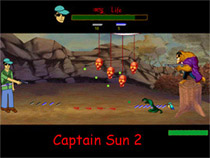 A classical arcade style game I developed using Flash Script and later compiled for windows.  I designed the main characters and some other using Adobe Illustrator, and some graphics I collected to develop this game. In this game, you have to move your hero by killing enemies and final boss. There are total 5 stages in this game.
Tank Fighting
Using Flash Script I developed this game in 2001. This is a simplistic strategy game where you have to move your tank by avoiding enemy tanks or destroy enemy tanks. You also have to destroy a puzzled object to open the gate where you'll leave this place.